Recently, the 6th China Newspaper and Advertising Conference and the "2012~2013 China Newspaper and Advertising Advertising Value Ranking" conference was held in Guangzhou. The conference was hosted by the China Advertising Association Newspaper and Periodical Branch and hosted by Guangdong Guangzhou Daily Media Co., Ltd. (Guangdong Media). More than 200 principals and nearly a number of advertisers from nearly 150 newspapers and magazines across the country attended the event. Qipu Optoelectronics is honored to be the LED display sponsor of the conference, playing the scene in real time.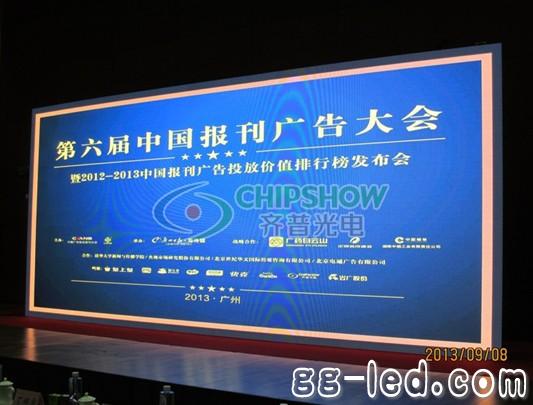 This is the P3.75 HD indoor LED display sponsored by Qipu Optoelectronics.
Qipu Optoelectronics Co., Ltd. took the high-definition indoor series P3.75 to participate in the meeting. General Manager Jiang said that the display effect is very good, the picture is clear and stable, the video effect is vivid and smooth, and the participants are highly praised. The organizer also displays the effect. Said very satisfied.
The picture shows the speech of Li Dongsheng, president of China Advertising Association.
It is understood that at the two-day Chinese newspaper advertisement conference on September 8~9, heavyweight guests from major newspapers and magazines and advertising companies across the country exchanged views on the transformation of the newspaper industry and the development trend of the newspaper industry. The event has been in operation since 2007 and has been successfully held for five sessions.
The selection of the conference refers to the five comprehensive factors of advertising business status, reader size and quality, urban consumption scale, new media application, and review expert opinions. The specific weights are 35%, 20%, 20%, 15%, and 10% respectively. Finally, the top 20 newspapers and advertisements were ranked.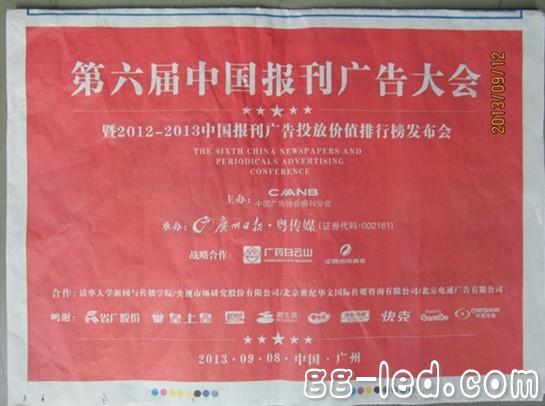 The above picture shows the information of the 6th China Newspaper and Advertisement Advertising Conference published by Guangzhou Daily. The lower right corner is the sponsor of LED lighting display, Qipu Optoelectronics. Qipu Optoelectronics warmly congratulated the 6th China Newspaper and Advertising Conference on its perfect convening. At the same time, Congratulations to the top 20 winners of the newspaper advertisements, and hoped that they will continue to make more innovations and breakthroughs.


(This article is a copy of Qipu Optoelectronics)

Integrated Led Lamp,Integrated Led Lights,Integrated Panel Lamp,Integrated Led Ceiling Lights
Changxing Fanya Lighting Co.,Ltd , https://www.fyledlights.com